Life has taught me the importance of telling my story. I can't afford not to now. Sharing it, I discovered I had value and a purpose. A personal commitment to help others helped me learn that. In the process I affirmed myself. But that's not where I started.
Out of the box at birth, I inherited a problem, pure and simple. My early life was unhealthy and unstable in many ways, and worsened as time went by. Three fathers and 15 homes imprinted a pattern of deep instability. I grew up in an environment full of trauma, neglect and sexual abuse. It continued throughout my adolescence and teen years. From the time I could remember, I was on my own. I had no sense of personal value. I was rejected by family. I had a series of guardians that never put my life as important as their decisions.
Whatever support I needed I didn't get. Instead I was blamed, and worse, ignored. There is nothing worse than to be ignored. A diminished sense of self left devastating scars of worthlessness and insecurity. I was fragile but somehow my own fear kept me safe. It kept me from succumbing to addiction or conflict behaviors. I knew that if I didn't have a boundary – even if it was totally self-created – I would lose everything. So oddly, having fear kept me alive. Yet, I was confused because I didn't feel I was in control at all. It was an emotional battlefield.
I felt helpless. It was if I was flying a plane to nowhere. It was turbulent and I had no direction. I also didn't know how to land. No one had ever taught me. I flew until I ran out of gas and crashed. This metaphor defined my life circumstances and the situations I routinely encountered.
At first opportunity, I escaped to join the U.S. Air Force to gain stability and find meaning. Yes, it helped some. But the implications that had taken root in childhood and adolescence would take years to overcome. The cascade of consequence from the impacts of abuse and abandonment would ripple into relationship after relationship. I was sent on a flight spiraling through life.
In recent years, my life began to stabilize, find a course and gain altitude. It has been through connections with loving and caring people and families that I have been transformed. Feeling valued or being validated is essential for any of us to survive, and more importantly to thrive. That is what many of us are really looking for. We want to know that we matter. We want to know there is purpose in it all. I was fortunate to find it.
I want to be an inspiration to people no matter how bad things have gotten for them or how long it has gone on. My message to anyone experiencing doubt and despair is this. Healing is possible. Life is worth living. Every day is a possibility to move in the right direction. Every day is a choice.
Let's face it. People in our lives can hurt us or heal us. Sometimes even people that love us can hurt us. For those of us who have issues, we can either perpetuate our problems and draw others in to suffer right along side us. Or, we can work through tough moments and times, and actually heal together. What we cannot do is heal alone. That is something that I need to emphasize. I grew because I ultimately reached out and trusted someone.
I have learned that families and friendships play a significant, essential and lasting role in healing. Positive relationships reinforce positive behaviors that help encourage the positive healing process inside each of us. Good people are shaping forces for good when we find them.
To make your own progress with whatever issue you face, it is essential to share enough of your own personal story so others can have a sense of it. No one can help you if you stay isolated. That means you need to find a person or a group of people you trust. Yes, it's risky and scary. Tough. Do it anyway. Better not to sugar coat it. I will never say it's easy because it's not. But is it worth it.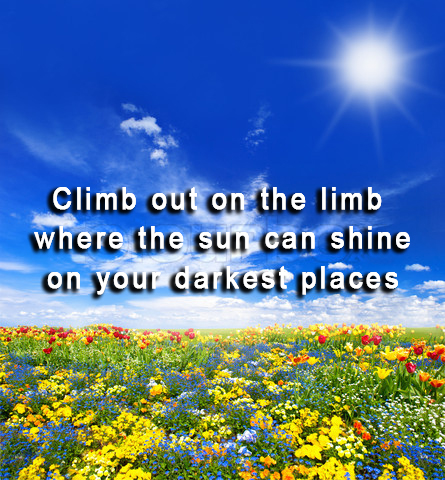 I learned to respect myself and value my life, despite how I was raised. There came a time when I accepted that I had to take my own responsibility for my life and make a decision. It wasn't about them anymore. It was about me. No matter what your situation is, there is a way to fly out of the negative place your in. You are not a broken person that needs to be fixed. The way you are makes total sense. You cannot change, you cannot transform until you accept what is. Period. Simply accept it and love yourself. Then if you need to make changes, make them.
I accept this has been my life and my past is what it is. And now I have a choice. To stay in the turbulence or do the work to fly out of bad weather. Through hard work, through this healing journey, I found that life is beautiful. I came to know things that people who have never suffered can ever know. This essence has proven to be worth the journey. This is my amazing discovery that I want to share with you.
Today, I am fortunate to interact with so many good people. Some I help. Some help me. Through it all I have discovered that blood is the least indicator of family. Really. There are mothers out there in the world who will mother you. There are sisters out there who will sister you. Men are out there who will father you and brother you. It's not about genetics. It's about connection and commitment. I urge you to seek someone who can love and accept you as you are in the moment. Seek those who will listen and care. Seek and ye shall find.
I continue to heal as I help others. Helping others has been healing for me. It will work for you too. To those of you in need, you are beautiful human beings. I value you. It is valuable what you share. You will be healed by doing so. Others will be impacted and made better because of you. So connect with others who care and fly forward. You will open up to a bright blue sky high above you.
Emotive Storytelling™ encourages behavior change through the use of narrative communication, neuroscience, digital media, games and mobility.  Narrative Communication as a source of emotive persuasion and education has a long history and a sound scientific underpinning.  Emotive Storytelling™ integrates the emotional power of the storytelling, cinematic technique, neuroscience, health games, mhealth (mobile health), digital tools and internet technology to drive user engagement, adherence and behavior change in healthcare delivery, marketing, education, and business.